"…the proof of your faith, being more precious than gold…" 1 Peter 1:6-7
I don't know about you, but I'd liked to be pretty much finished with faith's jaw crusher: sin. I want to move on from the elemental things of my refinement and watch Him deal with me in other ways. 
But, I've discovered that there is actually a second round of crushing that He ordains in our refinement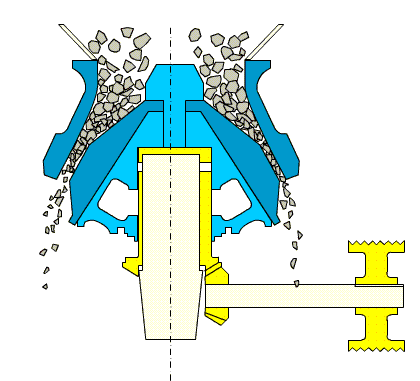 process. Like the stand cone crusher in the gold mining process, the Father uses a second very common method to purify us: the antagonist. 
"For the enemy has persecuted my soul; He has crushed my life to the ground; He has made me dwell in dark places, like those who have long been dead. Therefore my spirit is overwhelmed within me; My heart is appalled within me"  (Psalm 143:3-4).
The antagonist always seems to show up just when you feel that you are getting a grip on your life. And boy, can they rub you the wrong way. 
Although not present at all times in your life, these individuals are those who seem to squeeze the very life out of you. They overpower and devastate – sometimes in secret and sometimes quite overtly. 
At times, I have to admit that my "enemy" has actually been another Christian that just seems to bring out the worst in me. My thoughts and actions go south every time they are around. And sometimes that is every single day. 
Have you begged God to take them out of your life? I have. Yet, as soon as we're able to get away from that irritation, He seems to bring about another just as annoying. 
Could it be that we ourselves are the common denominator in these situations?
Indeed, our Master Miner puts us through the jaws of our fellow man to purify us in this stage. 
So what then is our response?
Remember - 
"The Lord is near to the brokenhearted and saves those who are crushed in spirit."
Rest - 
"Rest in the Lord and wait patiently for Him; Do not fret because of…the man who carries out wicked schemes." 
Retreat - 
"You hide them in the secret place of Your Presence from the conspiracies of man; You keep them secretly in a shelter from the strife of tongues."
Enduring a little secondary crushing today by your fellow man? I understand. In fact, you are with a host of witnesses on this one. Remember, Rest and Retreat.
Which will you do today?